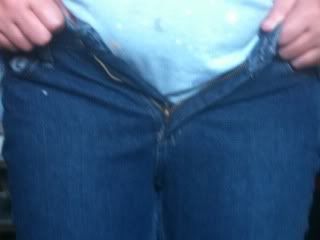 waist 36'
hips 41'
R thigh 24'
L arm 13'
chest 41 1/2'
Those are my goal jeans, as you can see I have a ways to go. I am not going to be to hard on myself as I did just have my 4th c-section 4 months ago. I am nursing so I have not been as diligent about things as I could be.
I am not going to use a scale to gauge things. I am going to use my tape measure & those pants. I want to count calories & get back into exercising. I will aim for 1600-1800 calories. I want to make sure the baby gets the milk she needs & can't really cut calories to compromise her.
It is really to hot to be doing much outside though I do enjoy running & have a jogging stroller. I have a wii & xbox360 with kinect. I have 14 workout games between the 2 systems so no excuse to not get moving. I also have a mini trampoline & hand weights.
My problems are I have the worst sweet tooth, I eat to late at night & it is junk food. I also am drinking to much soda. I know my weak points so there is no excuse for me to not reach my goal. I am majorly lacking motivation though & I am well aware of this. I did my measurements this morning. I will do them again on the 1st & then on the 1st of every month from here on out.
Once I hit my goal I will make Dh get me a new wardrobe.
I am trying to figure out some smaller goal rewards for me that don't involve clothes. I am in a size 14 right now, so 1st goal is size 12, then 10, final is an 8.